Soft Furnishings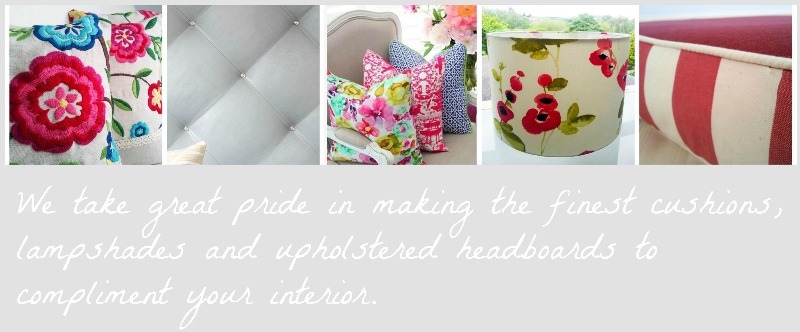 Compliment your interior design scheme with bespoke stylish and beautifully handmade cushions. Our cushions come in a variety of shapes and sizes and styles. Take a fabric you love, choose from our quality luxury feather inserts or fiber, and keep it plain, or finish it off with piping, or with decorative finish and trims. We welcome enquiries about non-standard sized and shaped cushions. We make:
• Scatter cushions; square, round, rectangular, or bolster.
• Floor cushions.
• Box cushion covers; suitable for chairs, window or bench seats. We can supply foam if you require.

We design bespoke drum lampshades to perfect your interior. You can customise your lampshade size, as well as choose ceiling pendants, table lamps or a floor lamp, all with a fabric of your choice. All our lampshades are handmade in our studio and they comply with safety regulations.

Upholstered headboards are a cost effective way to add instant luxury to your bedroom. Gabriela Turnbull Interiors offer bespoke upholstered headboards in traditional and contemporary designs. All our headboards are made to measure in your chosen colours, materials and specifications, making them completely unique to you. We also undertake large re-upholstering projects, with all processes carried out by our expert upholsterers. Please get in touch to find out more.